Ragtime Automated Music
Click here to go to our Roll Video Page showing videos of most O rolls so you know exactly what you are getting: Click on any thumbnail picture or model number to see a photo and description. Some have sound files to click on as well.
Click on the mail box to request our current prices, or your wholesale discount rate.
Factory Phone (209) 735-0767
Monday-Friday 7am to 5pm Pacific Standard Time
Wonderful! Our Bluegrass Special. Must be seen in person, but MP3 files are available on the MP3 page. Plays 15 percussion instruments with Bass Guitar, Guitar and Banjo. Sounds great with rock, classic, blues, jazz and many other music forms.

"Earls Breakdown" An mpeg of the Bluegrass special playing Bass Guitar, Banjo, Guitar and 15 drums. Around 10 MB Worth the wait.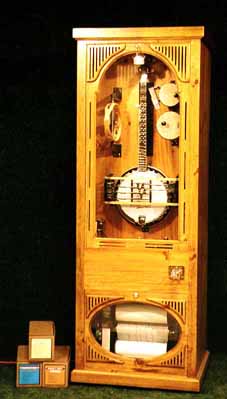 Click here to go to the Roll Operated Banjo and Roll operated Guitar page.
---
Factory Phone (209) 735-0767
Monday-Friday 7am to 5pm Pacific Standard Time
---


Last Update: Dec. 10 2019
Web Author: Ken Caulkins