Caribbean Steel Drums



Send $15 for a Catalog of all our products to Ragtime, 4218 Jessup Rd., Ceres, CA 95307 U.S.A.
---
---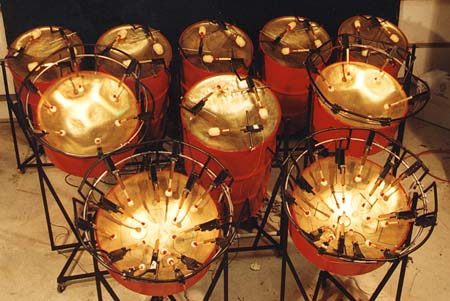 This is one example of how we can "midify" steel drums. Each drum is mounted on a chassis with 3 wheels. This allows placement on fairly uneven surfaces such as park asphalt. The casters allow for quick mobility. Each drum is individually plugged in to the signal output of the MIDI decoding unit. Each is appropriately numbered for quick relocation. The sound of the steel drum needs no introduction. The appeal is music. The amazement is mechanical. General MIDI. Price for this 10 drum unit ready to go is $47,850 but the return on your investment will be priceless!


Click Here for "Volcano" 505 KB - mono
Actual recording of our Steel Drum Band!
---


Last Update: 12/25/11
Web Author: Ken Caulkins