Guitar Banjo and Bass Instructions and service videos



Click on the Mail Box to send me a note! Give me a click and I'll put you on our electronic mailing list for new products and locations where you can see one.
---
---
---


How to tune the Guitar:

How to tune the 5 string banjo:

How the Whats that Tune Game works:


Guitar plucker wheels and complete assemblies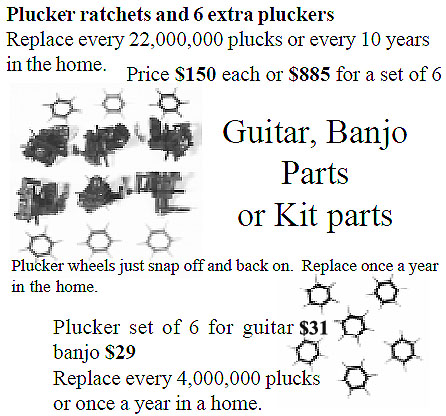 If your plucker mechanism is worn out, and the wheels no longer index and spin freely you will need to replace them. Below you may order them.

---
---

Send $15 for our 64 page catalog. Make sure that you bookmark this page now and watch it for frequent uploads of our many other instruments (about 57 separate instruments to date!). Mail to Ragtime, 4218 Jessup Rd. Ceres, CA 95307 U.S.A.


---


Last Update: Oct. 25 2012
Web Author: Ken Caulkins