Send $15 for a Catalog of all our products to Ragtime, 4218 Jessup Rd., Ceres, CA 95307 U.S.A.
---

Model W31 ST, "the Works"
---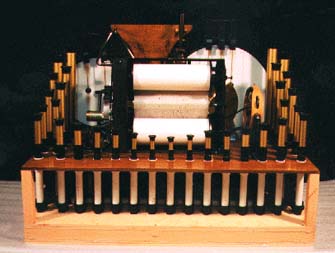 This is our W31-ST with Triangle and Cymbal added. Normally contains Bass and Snare Drums, Tambourine and 31 Calliope pipes. Plays on Air, with an authentic pneumatic mechanism built by Ragtime. Just add a cabinet, or insert into an antique truck bed and you have an instant parade vehicle. Plays 15 tune O rolls that rewind to play again. Download our catalog form the homepage for prices.
---


Last Update: April 26 2012
Web Author: Ken Caulkins