Send $15 for a Catalog of all our products to Ragtime, 4218 Jessup Rd., Ceres, CA 95307 U.S.A.
---

Popcorn Machines, Oak and Red
---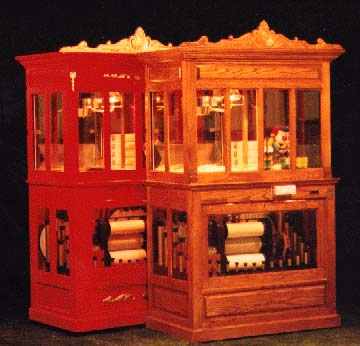 Shown here are our two most popular musical automated popcorn machines. Contains a commercial corn popper, automated despensing mechanism, 31 note calliope (W31-ST). Coin mech is adjustable for from 1 to 5 coins per 1 1/2 oz. box of popcorn. Purchasing popcorn produces one box and one song on the calliope. The clown cranks as the popcorn is despensed. Retail Price $39,800 and $38,800 respectively.
---


Last Update: May. 27 2018
Web Author: Ken Caulkins