Send $15 for a Catalog of all our products to Ragtime, 4218 Jessup Rd., Ceres, CA 95307 U.S.A.
---

BW66 animal drawn parade vehicle
---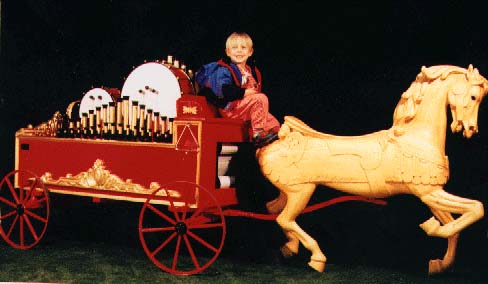 This is our small horse, dog or goat drawn parade vehicle. It contains a 12 volt DC to 120 volt AC battery and inverter system. With bulit in battery charger and cord. No noisy generator to listen to. Runs for about 3 hours on a charge. Contains Marching bass and snare drums, tambourin, triangle, cymbal, castanets and 66 calliope pipes. Built to withstand temporary bad weather. Plays 15 tune O rolls that rewind to play again.
---


Last Update: Dec. 24 2011
Web Author: Ken Caulkins